Mortgage
De Boer Financial Consultants sees it is its primary task to serve the interests of its clients. To ensure they receive the best, unambiguous and independant advice and trusted professional and reliable service. This is just a glimpse of the sorts of tasks that this process involves – the things we do for you.
Initial guiding meeting with client. Follow-up meetings,
Personal advice on types of mortgages, pensions or savings plan available,
Send client profile to be completed and signed,
Evaluate list of documents,
Analyse client's personal situation,
Guide/advice client in selecting the most suitable product,
Compare interest-rates and quotations from the various banks,
Request quotation from the bank,
Check quotations,
Make appointment with client to discuss quotation,
Calculate optional life-insurance policy and hand over health statements,
Have quotation(s) signed, receive documents and check them,
Request an appraisal,
Check documents again, copy them and send them to the bank,
Evaluate status to assess whether documents are correct,
Request supplement from client,
Request bank guarantee,
Contact civil-law notary,
Provide mortgage deed and final settlement,
Evaluate needs for and quotes for home insurance,
If necessary, attend signing,
Arrange provisional income tax refund (if desired in first year),
Remain in close contact with client during entire term of the mortgage,
Arrange changes to the mortgage as may be required,
Administer changes to family situation (divorce, death, birth),
Administer changes to work situation,
Administer changes to accommodation (moving home, building extension),
Always remain available for contact with client for questions and advice.
The work is extensive, complex and has to be done with the greatest care. Interested? Ask your Mortgage related question.
Housing Links
Renting
>
Renting a house
>
Rental Agencies
>
Short Stay Agencies
Buying
>
Buying a house
>
Mortgage
Letting
>
Letting a house
Mortgage questions?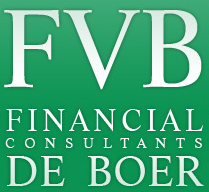 Wassenaar (The Hague):
Gang 3
2242 KD Wassenaar
Tel +31 (0)70 511 87 88
Fax + 31 (0)70 517 88 52
E-mail:
info@fvbdeboer.nl
Amsterdam:
Johannes Verhulststraat 163hs
1075 GX Amsterdam
Tel +31 (0)20 664 55 78
Fax +31 (0)20 662 99 41
E-mail:
amsterdam@fvbdeboer.nl
Visit the website :
www.fvbdeboer.nl